Youth Formation
2022-2023 Middle School and High School Youth Groups
Meet every Wednesday in rooms 2&3&5 from 7-8pm.
Contact Jessica Brown at [email protected] or 406-656-5800, ext 312 with questions about the Youth Ministry Program. 
Wednesday, March 29th
Regular Youth Group from 7:00pm to 8:00pm
Wednesday, April 5th
NO YOUTH GROUP
Please attend the Triduum. 
Holy Thursday Mass of the Last Supper at 7:00pm
Good Friday Service at 7:00pm
Easter Vigil at 8:00pm
Wednesday, April 12th 
LAST REGULAR YOUTH GROUP MEETING FOR 2022-2023 YEAR from 7:00pm to 8:00pm
Wednesday, April 19th
Family Night, Kite Flying
Wednesday, April 26th
END OF THE YEAR BBQ with Parents 
Please bring salad and desserts for our end of the year celebration.
Important Information Below:
Steubenville Trip
July 14th-16th in Spokane, WA
https://steubenvilleconferences.com/events/nw/
The trip details have been worked out. The group will leave on Thursday, July 13th, arriving back to Billings on Monday, July 17th.
Commitment forms and the registration fee for each youth are due on April 1st, 2023.
The rest of the money will be due on July 1st, 2023. If you are needing scholarships due to financial hardships, please reach out to Jessica Brown. 
The cost for the trip per youth is $375.
This is the breakdown for the trip:
$180 registration for the conference, which includes 5 meals
$60 for meals not provided by the conference
$135 for two nights of hotels and fuel
Click on the picture to get the PDF of the Commitment Form.
Click on the picture to get the PDF of the Diocesan Medical Information Form.
Click on the picture to get the PDF of the Diocesan Parent/Guardian Consent Form. 
Please contact Jessica with any questions about the trip. 
We are also doing another Mystic Monk Coffee Sales Fundraiser for Steubenville and St. Thomas camp. We will hold the Fundraiser between Easter and Pentecost. Pre-order forms will be placed out the first weekend of March.
Here is the link for to sign up for times to sell Mystic Monk Coffee and Tea.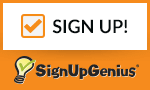 **Adoration and Benediction**
**Every Wednesday at 6:30pm during LENT**
There is also Adoration and Benediction every Wednesday at 6:30pm. We will meet every Wednesday at 6:30pm in the Church for Adoration and Benediction before having Youth Group. This is for parents and youth.
-Diocesan Youth Event Planning Board Youth Representatives-
The Theme of the Diocesan Youth Event is "Saints and Sacraments". 
We have three subcommittees available for St. Thomas youth to lend their knowledge, skills, and opinions. 
Currently, Jessica Brown, and Youth Leader, Paul Duncil, are the adult facilitators of the Saints Subcommittee. 
If you would be interested in helping determine the outcome of how the Diocesan Youth Event transpires, please contact Jessica about joining one of the subcommittees. 
Our next meeting will be in person at St. Leo's in Lewistown, on June 24th from noon-4pm.
-Stations of the Cross-
-Every Friday evening at 6:00pm during LENT-
Every Friday we are having Stations of the Cross. Stations start at 6:00pm in the church, with Soup and Bread immediately following. 
We are hosting Soup and Bread on March 24th. We are responsible for providing around 10 crockpots of soup and about 9 loaves of bread. We also need to clean up after dinner. This lasts from around 6:30pm-7:30pm. 
Please find the Sign Up Genius below to sign up for either bringing a crockpot full of soup or a loaf of bread.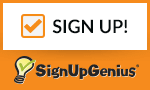 MAY DAY BAKE SALE
In honor of May Day, the weekend of May 6th and 7th, we will hold a Bake Sale.
We will be fundraising for Steubenville and St. Thomas camp. 
We need homemade goods to sell. We need people to sell those goods as well.
If you would like to donate a dozen of some treat to be sold, we will take all items on Friday, May 5th. 
Please contact Jessica with any questions. Please sign up for making homemade treats or selling using the Sign Up Genius below.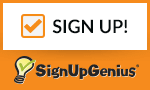 Graduates Day
We will honor the Graduates of St. Thomas the weekend of May 13th and 14th. 
We will have a cake reception after all three Masses that weekend. 
We need Graduate Lectors, Altar Servers, Cantors, and Ushers to help with the liturgies.
Please let me know if you would like to participate in the liturgy during that weekend.
I also need photos of our graduating seniors of 2023. 
Please email me their photos! 
Sign up to receive FlockNote emails from Jessica
(Registered Parishioners of the Parish)
The Youth Formation page is connected to St. Thomas the Apostle Twitter account as well via FlockNote, so notifications will post to @thomas_catholic.
 Prayer Corner:
Rosary
Divine Mercy
Liturgy of the hours
Lectio-Divina
EWTN
Don't Miss A Link:
Catholic Art:
https://www.churchpop.com/2016/03/08/sheila-diemert-catholic-art/ 
https://www.themodernsaints.com/
https://www.houseofjoppa.com/collections/catholic-art
*We have purchased the Goil Foil Hearts, and the Watercolor Hearts from the House of Joppa. You will find these prints in our Youth Ministry rooms this upcoming year. We will be using them as reflections points throughout the year. They will guide us throughout our journey with Jesus, Mary, and Joseph for this 2022-2023 year.*